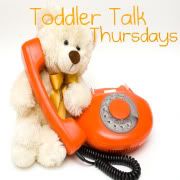 Welcome to the 4th week of Toddler Talk Thursday! Family and Life in Las Vegas and Crazy about My Baybah are excited that My Life as a Sippy Cup Mom has joined in the hosting fun! (So excited, we heart her!) Toddler Talk Thursday was created as a place for moms and dads of toddlers to come together over a weekly topic and share ideas, go-to toys or products. Each week the topic will be different; we invite you to link up, and share your weekly Toddler Talk!!


This week's topic is : Toddlers Favorite Toy(s)

Diggs favorite toy right now is anything Elmo. Elmo videos, Elmo books, his little stuffed Elmo, all the way to his Elmo back pack. We always said we would not be an Elmo family but here we are with Elmo coming out of our ears!





Another favorite toy is his Radio Flyer Coupe. Everyday when we get home - he points to the outside and says (insert Boston accent) "Car,Car." We usally take him for a spin down to the playground.


The swings are another huge hit in our house. Thank goodness the playground is just down the street. He never wants to get out and it is so cute becuase he will be in the swing going "Wheeeeeeeeeeeeeeeeee."



I guess you can consider these items toys. Henry is not really one to play with your regular everyday toddler toys. He would probably take a straw and a cup over a toy most days ;)